Golden Eaglets star nickname 'Little Messi' Akinkunmi Amoo keens on joining Zlatan Ibrahimovic co-owned club Hammarby in Sweeden when he turns 18 Sunday which will allow him to sign a professional contract in European.
Former Sweeden international who is a huge admirer of the Nigerian U17 attacking midfielder was pictured with the talented youngster as the club looks to tie a contract with the Shooting Stars Academy graduate in March.
Ibrahimovic owns a 23 percent stake in Hammarby FC and his keen to see Amoo develop the club as he believes he could potentially go on to become one of the finest wingers in the world if he maintains his cool and keeps working hard.
Amoo is believed to be on the radar of Premier League, Austrian Bundesliga, French Ligue 1, and Belgium clubs.
However, the youngster told All Nigeria Soccer ahead of his trip to Sweden.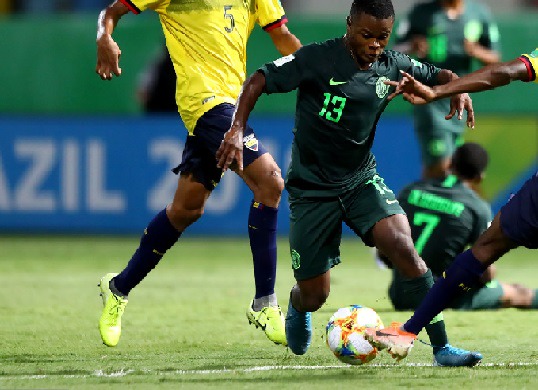 "I have not traveled to Sweden because of this coronavirus crisis, I am still in Ibadan. Until the borders and Embassy are open I cannot travel,"
"Hammarby gave me a fitness program to follow but my coach, the assistant coach of Shooting Stars, also guides me in training activities.
"I am definitely joining Hammarby when everything is clear".
Chief scout Mikael Hjelmberg told Football Channel: "We have always said that we have had, and still have, an ambition to carry out the transfer of "Akin" and it remains,"
"Then he has to turn 18 before we can do anything and he does that on Sunday.
"We'll see if we can get to the finish."
The Coronavirus Pandemic has meant the transfer will not be that simple no thanks to international travel restrictions among other challenges.
"He needs to move from Nigeria to Sweden and the question is whether it is even possible to do right now," said the Hammarby official
"Then we also have to work out the conditions for that move, so there a lot remains."
Amoo was one of the stars for the Golden Eaglets at last year's FIFA U17 World Cup, bagging three assists in four appearances during the tournament in Brazil.